Comfort at work second to none! The HybridPro+ technique is the fruit of 3 years of work in our workshops. The combination of two fabrics considered incompatible, achieving such a professional level of quality, is a real exploit.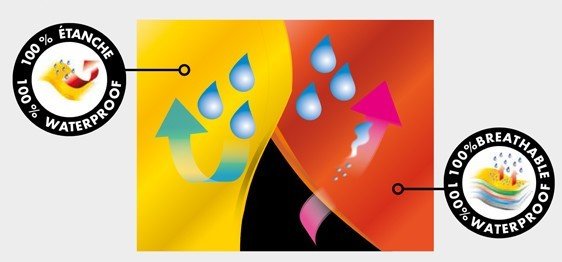 The HybridPro+ technique!
All the areas of work clothing subjected to the most wear are made of PVC, a fabric tried and tested for its long life in the harshest of conditions: Nylpeche fabric, Cap-Coz fabric, etc.
The less exposed areas of the clothing, such as the rear and upper section, are made of highly breathable fabric used in professional sailing circles: Dremtech+ fabric (3+2 layers).
TOUGH BREATHABLE clothing! Stay dry for a long time at work!
The HybridPro+ technique is huge progress in comfort at work.
Condensation (linked to the outside temperature) and perspiration (linked to the intensity of what you are doing) no longer affect your comfort. Whatever the latitude or season, there is no need for any extra layers of clothing, HybridPro+ is suited to working conditions.
On our way to a new generation of all-weather gear.
Our gear is certainly among the best professional clothing on the market! Guy Cotten has confirmed its position as the most innovative manufacturer in the industry! Comfort at work has been our watchword since our creation 50 years ago (1964).
BREATHABLE, tough and LIGHT; It revolutionizes comfort!
Tough, BREATHABLE and light!
Cap-Coz sleeves for easy movement.​
Smock version of the DREMPRO
Guy Cotten has succeeded in unifying a coated fabric (PVC) and a tough breathable fabric, thus creating Breathable All-Weather Gear!
Innovation Award - Seawork 2013