There will be 37 skippers lining up at the start of the 340 nautical mile Solo Concarneau - Guy Cotten Trophy. A fleet of Figaro Bénéteau, moored for the moment in the marina at the foot of the Ville Close, which will provide the show in Concarneau this week!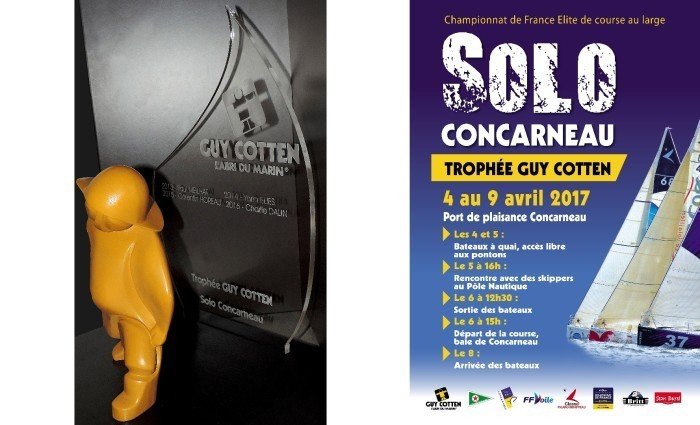 The pre-start
Round Tables, free and open to all, will provide an opportunity to talk to professional skippers about ocean racing, how to become a professional skipper and what life is like on board a Figaro Bénéteau during a race. These discussions will take place from 3.30 pm to 5 pm at the Pôle Nautique, Place de la Croix, where the sailing suits, manoeuvring suits and other waterproof bags from the Cotten collection will also be on display.
The line-up
With 37 boats at the start, including 6 rookies and 4 women, this event promises to be particularly interesting to follow, with a foretaste of the Solitaire Urgo - Le Figaro, as the reigning winner, Charlie Dalin (Skipper Macif 2015) explains:
« C'est une belle édition qui s'annonce, variée en termes de conditions météo, avec du vent faible à médium, et des transitions à gérer. Sur ce parcours avec deux nuits en mer, ce sera très représentatif d'une étape de la Solitaire. Surtout que le plateau est fourni, avec des concurrents qui n'étaient pas présents sur la Solo Normandie (ndlr : 1e épreuve de la saison 2017, remportée par Charlie Dalin) comme Jérémie Beyou ou Erwan Tabarly. Mon objectif est clairement de conserver le trophée Guy Cotten ! »
The course
After a start in front of Concarneau, the Figaro sailors will first have to negotiate a passage between the Glénan islands before attacking the ascent of Brittany to the Pierres Vertes, and the famous Raz de Sein passage. In the early hours of the second day of the race, the sailors will set course for the island of Yeu, passing the Birvideaux lighthouse. Depending on the wind, important tactical choices will be necessary on this long leg between Sein and Quiberon. After this passage through the Morbihan islands and their coastal effects, the sailors will set course for the southernmost point of the course: the island of Yeu. For the climb back up to the finish in Concarneau, the skippers will have a range of options for passing between the islands.
Source communiqué de presse http://soloconcarneau.blogspot.com/