Since its creation, the company has been making clothing that lasts over time!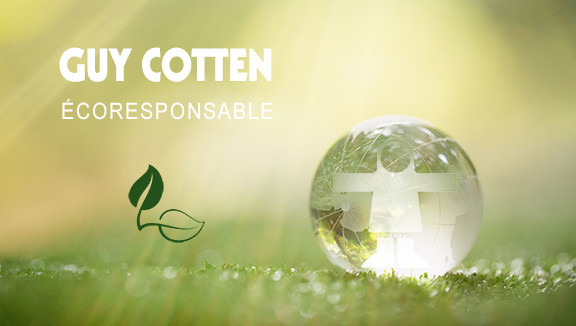 Since its creation, the company has been making clothing that lasts over time!
Guy Cotten clothing performs well for weeks and even months when I'm on a round the world. Their signature mark is to make gear that lasts. You could find ecological clothing by Guy Cotten long before it was even fashionable. It's the past, present and future of Guy Cotten. François Gabart
"Consumers are looking for better quality products and expect brands to be environmentally responsible." Our values, our ethics, our history have always been in this direction. Our skipper ambassadors testify to this and reinforce our approach.
Guy Cotten, Manufacturing in France Since 1964
At Guy Cotten we attach great importance to our regional location and expertise. We have always maintained full command of our production and kept jobs in Brittany. Furthermore, we made a building of 4,500 m² clothing factory in Trégunc, Finistère, which came into operation in May 2019.
More than 70% of its production is made in Brittany. We have 3 production sites: Trégunc, Finistère, (1 workshop in Pont Minaouet and 1 factory in Kerouel) and Landaul, Morbihan. Madagascar site is just to meet "cheaper" market requirements.
95% of our fabric suppliers are French or European.
The eco-friendly brand, because we create clothes that last
Creating protective clothing that is efficient, comfortable, solid and timeless is an ethical approach. They are usable for longer periods of time and are a vector of economy and waste reduction.
​This has been Guy Cotten's approach and conviction for a very long time and we have never forsaken the idea despite market requirements that advised wearing throwaway clothes!

Nadine Bertholom-Cotten - President
We repair instead of changing the garment!
We have always provided after-sales service based on the principle of repairing and extending the life of the garment rather than simply exchanging it and creating waste.
I will remain loyal to Guy Cotten for these values. If there's a problem, it's repaired! Before we had that mindset, Guy Cotten had already thought of it. I respect them for that! They are the values of the future shared by two generations, my own and Stan Thuret's.

Roland Jourdain - Kairos
The advantages of PVC cloth!
Our gears are made of PVC. This material, which is sometimes criticized, actually has a lot of advantages to make protective clothing.
- A much longer life span than other coated synthetic fabrics.
- A permanent waterproofness that remains reliable over time without ever requiring the addition of volatile water-repellent substances.