Always pushing back the limits of her endurance capacities, The "Quimpéroise" thinks, prepares and organizes each of these trips in detail, surrounded by a team of enthusiasts who advise and support her.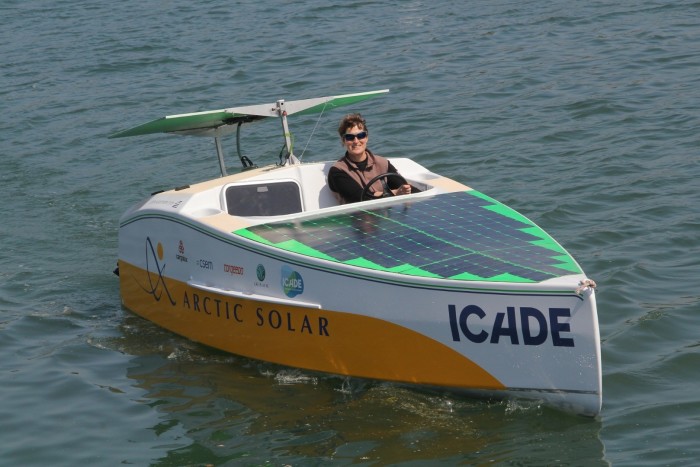 Anne Quéméré was born and raised in Brittany before flying to North America where she lived for about ten years.
At the beginning of 2001, back in her native country, this sea-lover, predisposed by maritime atavism to cast off one day, embarked on daring and, for some of them, experimental navigations.
2002, transatlantic solo rowing without assistance.
A 56-day odyssey that opens the door to the trade wind route, and gives her a record that gives her wings and, above all, the fiery desire to continue the adventure.
2004, crossing the North Atlantic rowing solo and without assistance
6450 kilometers from Cape Cod to Brittany. A fearsome test, in fogs, gales, swells and breaking waves. She completed this journey in 87 days, in particularly difficult weather conditions and set a new women's record.
2006, kiteboat transatlantic race, single-handed and unassisted
She sets off again on the North Atlantic, but this time for a world first aboard a small prototype towed by a kite. 55 days later, she sets foot on the Breton shore convinced that she is done with these ocean marathons.
But her world, her breath, her breathing, her escape, it is on the ocean that she finds them and in the summer of 2010 she joins an expedition to Greenland "the Great Drift" which opens her eyes to another world, that of the ice.
The following year she went from Lima in Peru to French Polynesia.
2011, crossing the Pacific in kiteboat, solo and without assistance.
When she is not alone in the middle of the ocean, she writes articles to share her travels, leads conferences, talks about issues of concern, such as the preservation of the oceans, while dreaming of new equipment.
Beyond these different odysseys, it is above all the ocean that she salutes, because "however powerful our determination, however unfailing our energy, it is he and he alone who in the end decides whether or not to let us pass".
2015, North-West Passage.
Across the icy Arctic ocean by kayak, in the footsteps of Amundsen.
Around 2000 miles to be covered in a kayak (around 3400 kilometers), through the legendary Northwest Passage and the ice of the Arctic Circle... It is obviously an adventure that requires both technical and physical preparation without compromise.
2017, the Arctic Solar project.
The first solar-polar crossing of the Northwest Passage in the summer of 2017. The route is approximately 3500 kilometers (2000 nautical miles). This kayaking adventure is above all an ambitious and uncompromising expedition.
The book: Passenger of the Arctic, published by Locus Solus Editions (March 2016)
To succeed in following Anne Quéméré and her projects