An activity that resumes, highlighting the "French made" that is essential!
Restarting the manufacturing plant in TREGUNC France
Following the announcement of containment, all of our workshops and services: Trégunc (Pont-Minaouët), Trégunc (Kerouel), Landaul and Madagascar have been closed.
As the shortage of hydroalcoholic solution did not allow us to ensure the safety of our employees, this situation continued for several weeks. We took the opportunity to refine the procedures to be put in place for a resumption of operations under the best possible conditions.
Our main concern was to put in place measures that would allow employees to return to their jobs in the best possible conditions, with confidence, in this already very anxious and stressful context.
In order to better control the proper monitoring of the new procedures and to adapt them, we decided to start by having reduced production groups from the 14th of April working only by half days. Then gradually, over the last three weeks, the teams have been expanded and since Monday all the workshops have been up and running, even if out of the hundred or so people normally in production, more than ten are still missing, faced with the difficulties of childcare.
The courage to invest in France
If there is one thing we can be delighted about in these gloomy times, it is that we have had the courage to continue investing in France and to build a new production building. Certainly, in our old workshop, where we were very cramped, safety distances would have been much more difficult to set up, whereas in the new one, they are naturally respected.
During this period, we were rather discreet. It is not in our DNA to communicate in the face of disasters. At a time of programmed decontainment, we can give you some updates of what our actuality has been over the days.
Of course, like many others, we have been attentive to the news and demands of the health sector. At our level, in the first few days, we provided some hospitals and Eldery's home around us with aprons, masks, hygiene caps.
Some may have reproached us for not having immediately launched into the production of masks. As you have understood, we would never have agreed to endanger our staff for any production whatsoever. Moreover, our fabrics, whether PVC or even breathable fabrics, are incompatible with this use because they are too airproof. Since our restart, we have been collaborating with one of our colleagues clothing manufacturer, the company Le Minor from Guidel (56), by manufacturing reusable Afnor-approved masks for them, using the fabric they supply us with.
For this we have had to modify the equipment of some machines and requisition several of our seamstresses, normally assigned to our own productions. Although more than 5,000 masks are currently produced per week between the two companies, we are aware that this is only a drop in the ocean in relation to the international need. Our concern is already to be able to meet the orders in portfolio with our colleague, through whom all orders for this product transit.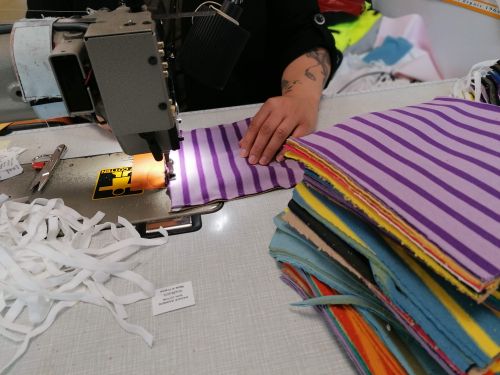 Because the basis of our activity is the professional worker, whether at sea or on land, we had to relaunch at the same time the production of our own range articles. It would be inconceivable not to be able to provide the protective clothing they need to ensure the population's subsistence in the best possible conditions. It is therefore a global re-launch of our production tool that is being carried out.
To be honest, yesterday's productivity will not be today's productivity. The necessary safety procedures throughout the manufacturing process reduce efficiency. As we put the safety and confidence of our employees on top of our priorities, we have also made the choice to ask them to work 7 hours a day only instead of 8 to make sure the safety procedures are efficient. We will therefore no doubt have to ask you for a little understanding of our deadlines, but we will be able to meet our customers' current orders, both in France and in Export (45% of our business). And we are confident that as the days go by, we will improve.
We are so confident, (or some would say crazy...) that even in these difficult times, we are going to recruit more people to strengthen our production teams.
If we have to talk about figures, it is undeniable that the month of March was marked by a sharp drop in turnover. Despite our slower activity, April is behaving better. The economic recovery will undoubtedly be slow and will impact our steady growth over the last few years. However, as we are neither listed on the stock exchange nor managed by third parties, but more simply still a family business, our main goal before any other consideration is therefore first and foremost to survive and to serve you as well as possible by maintaining our quality.
A direction that is being confirmed:
The company's strategy is winning! Since its creation, it has always kept its know-how and production tool as close as possible to the head office.
Even if, faced with competition from low-cost products, we have had to opt for a relocation of some of our references to Madagascar, but keeping the supply of materials from France or Europe and cutting in our workshop in Trégunc (29).
If we progress each year outside the French market, it is also because, in view of our prices, which are certainly higher than for manufacturing in countries with low labor costs, users recognize that our products are of much higher quality and have a much longer durability
Won't this crisis call into question the relocation of our industries? And for the consumer, will it not be possible to give priority to purchases from the nearest producers in Europe?
We strongly believe in this and wish to enhance the value of our French products.